The Art of Mass Gatherings
A touring experiential symposium that uses festivals as classrooms to build community resilience and climate change preparedness
The Art of Mass Gatherings is a touring experiential symposium that uses festivals as classrooms to build community resilience and climate change preparedness. These events bring together a variety of professionals—including artists, event producers, and emergency responders— for a day of hands-on learning and networking. Participants meet one another and share knowledge and practices that increase the safety, accessibility, sustainability, and community engagement of large gatherings of people.
Hundreds of people in nine cities across the country have already participated in this innovative program, developed by Majestic Collaborations and featured by FEMA in its Arts & Experiential Learning Inspiration Book.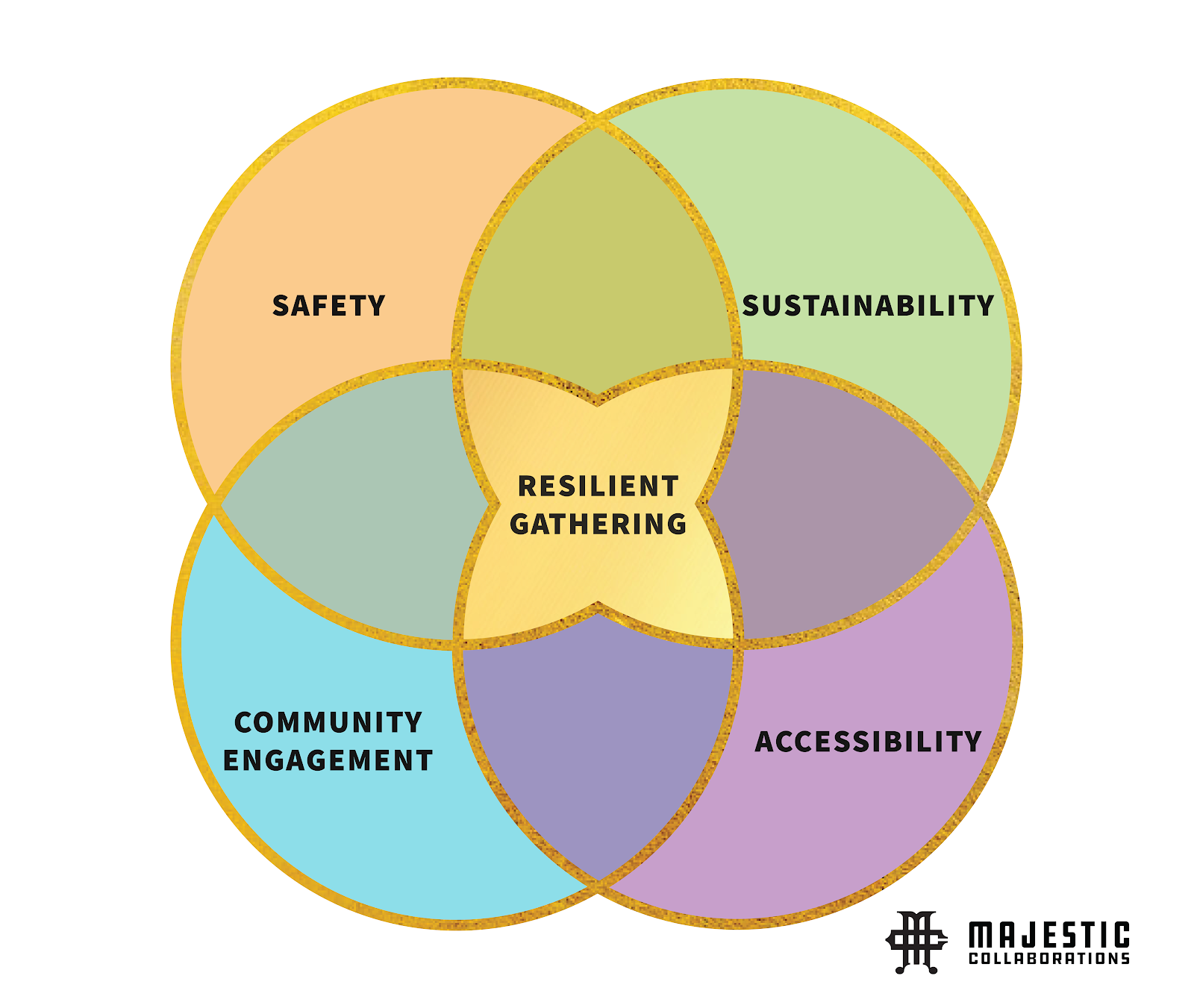 The foundation of all Art of Mass Gatherings is our unique four pillar framework for resilient gatherings: safety, sustainability, accessibility, and community engagement. These factors are critical for the safety and success of public gatherings of all kinds, from festivals to political demonstrations to disaster response sites.
During symposia, participants learn high-impact practices for increasing the safety, sustainability, accessibility, and community engagement of their events. Through site tours and hands-on workshops, they engage with the hosting site and put their new knowledge into practice.
Why festivals?
Local events exist at the crossroads of community, cultural tradition, and social transformation. Structurally, they also share a surprising amount in common with disaster response sites, from temporary structures to emergency planning and crowd management, accessibility needs, and the design of food, waste, and water systems.
That makes festivals and other mass gatherings ideal classrooms and sandboxes for arts and culture workers, emergency professionals, and community members alike to meet one another, learn, and practice the art of resilience. They offer a trauma-reduced setting for professionals to keep their skills fresh, while also getting to know some of the people, places, service providers, and potential risks they'll confront should a disaster ever strike locally.
That's exactly what we do at The Art of Mass Gatherings.