You know your community best. The Art of Mass Gatherings is most successful when amazing local luminaries from across industries come together to lead a day full of hands-on learning opportunities in the areas of event safety, sustainability, accessibility, and community engagement.
During today's meeting, we added ideas for session presenters and topics to the jamboard! Feel free to keep adding this week! Our team will put together a tentative program design based on these ideas, which we'll present at our next meeting. At that point, we'd really appreciate a quick e-mail introduction from you to the session leaders you've mentioned.
Below you'll find answers to frequently asked questions, text you can copy/paste to get us in touch with potential presenters, and more to help guide this process. Thank you for your insight!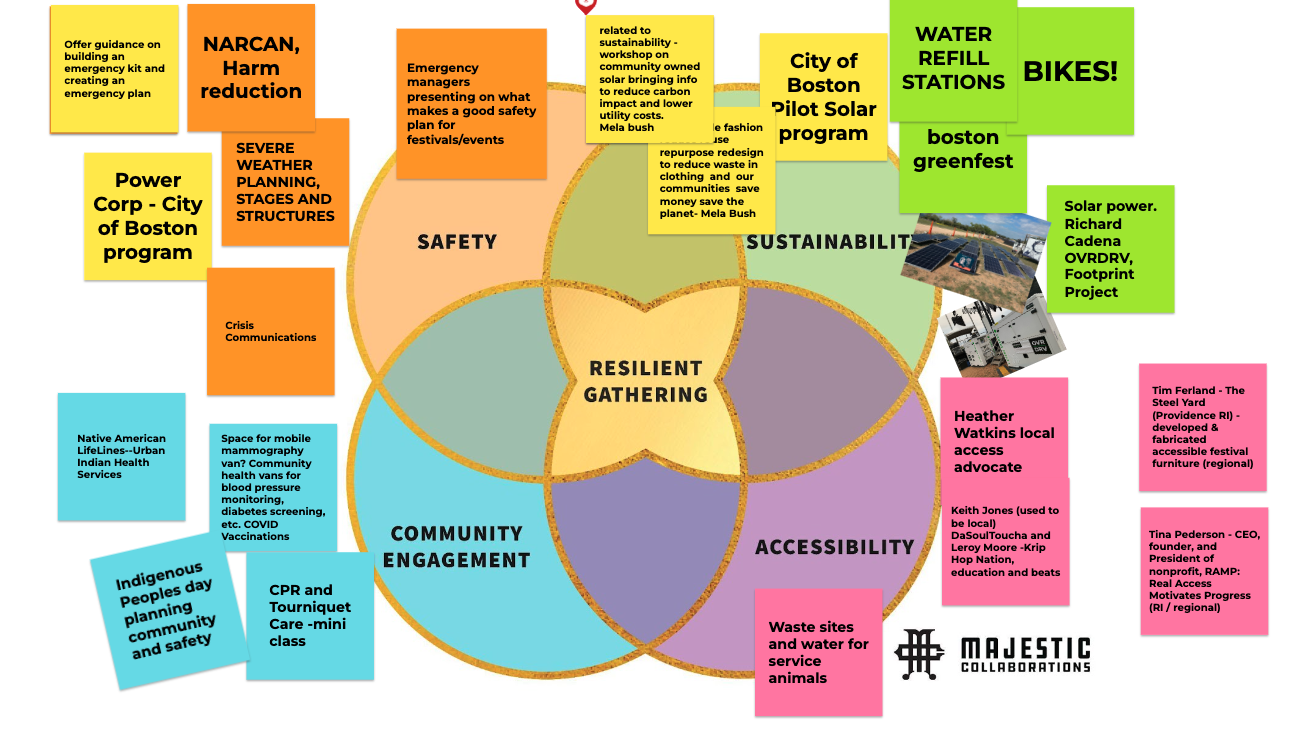 Sample intro e-mail text
Dear NAME,
I'm on the host committee for an experiential learning and networking symposium called The Art of Mass Gatherings coming to Boston on Friday, June 23rd, as part of BAMS Fest. This event is for artists, event producers, and emergency professionals to share knowledge and elevate the safety, sustainability, and accessibility of our events and communities. It features a mix of local and national speakers and facilitators, and is being made available in Boston at no cost to participants thanks to a grant from Performing Arts Readiness.
I thought you'd make a great session presenter so I'm introducing you here to the program organizers, Matthew Ché Kowal of Majestic Collaborations and local coordinator Latifa Ziyad. They can share more details about what's involved. The organizing team has already let us know that leading a session does not require much advance preparation other than participating in a couple online meetings, and speakers are given an honorarium in contribution for their time and expertise.
I hope you both enjoy the connection!
Frequently Asked Questions
Who would make a good session presenter?
We welcome presenters with professional and/or personal experience in areas of safety, sustainability, accessibility, and community engagement, or at the interesting intersections across two or more of these areas. In the past that's included event professionals, accessibility self-advocates, festival producers, emergency responders, long-time volunteers, and more! We are attentive to gender parity and racial and cultural diversity in assembling the event program.
How much preparation is required in advance?
The event format is primarily interactive and responsive to the festival site, so speakers don't need to do a lot of preparation in advance. We ask for presenters to submit a brief bio and other details, and to join us on a couple online calls prior to the event to learn more about the program and meet the other session facilitators.
Having said that, we love demos, show-and-tells, and hands-on activities, so session facilitators are encouraged to let us know their ideas!
Are speakers compensated for their time?
We offer an honorarium to all facilitators in recognition of the time and expertise they contribute to these events. Presenters are encouraged to participate throughout the entire day's program, where we also provide lunch, childcare services, and other accomodations by request.
Is there guidance for speakers on what to expect or how to prepare?
Absolutely! Visit or share our Guide for Presenters. Potential speakers are also welcome to let us know any questions or schedule time to talk.