Thursday, 22 June at BAMS CONX
Detailed program times and speakers may be subject to change. All sessions take place in the Loft of the David Friend Recital Hall, Berklee College of Music.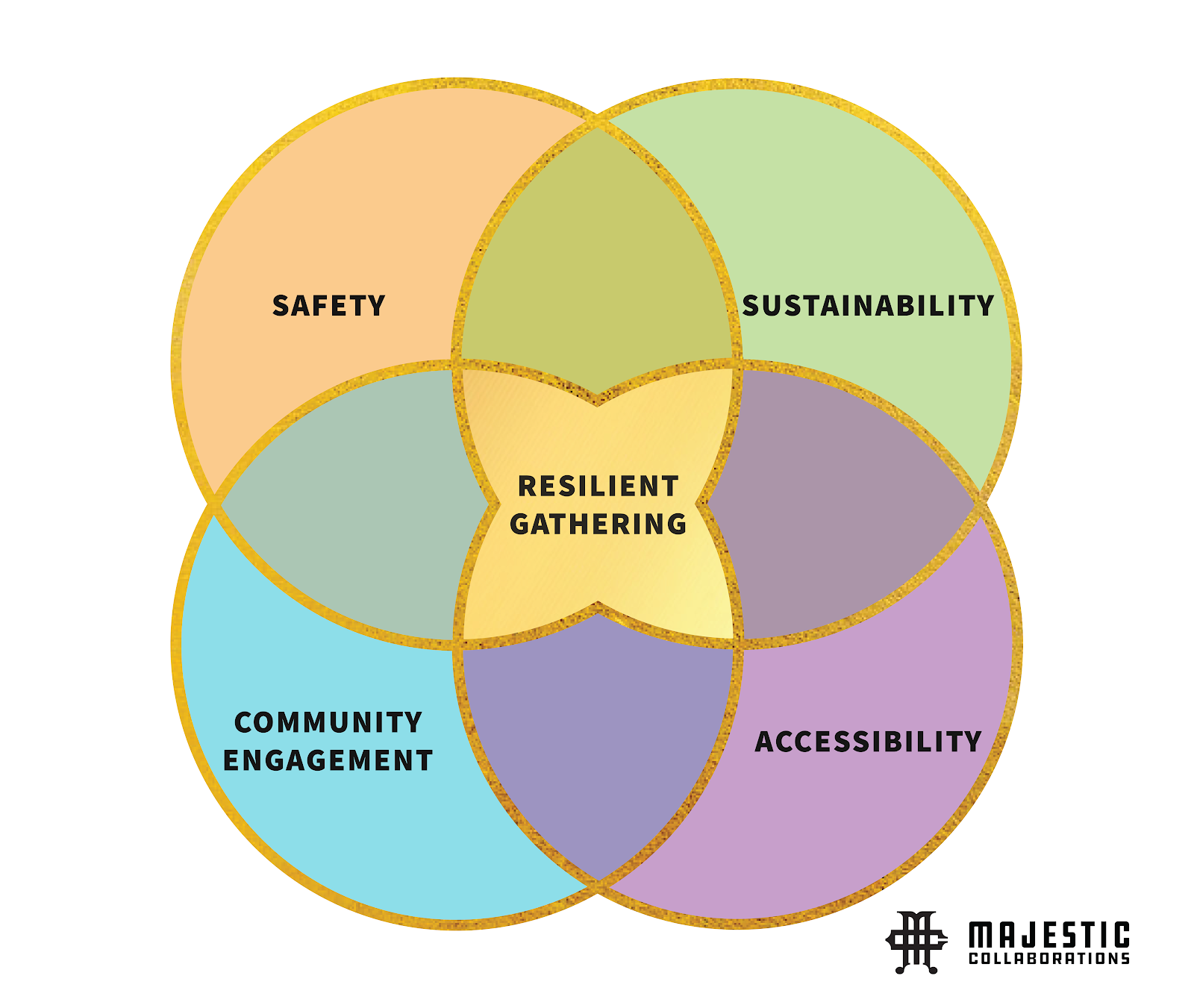 Welcome!
8:30 am – 9:00 am
Mashpee Wampanoag poet, artist, and author Robert Peters leads us in a recognition of the land on which we convene together.
Community Engagement
9:00 am – 10:00 am
Perspectives from across the arts, medicine, culture, and emergency management on why mass gatherings are great opportunities to build local capacity in emergency preparations, health and wellness, and cultural placekeeping. How can we create safer, more empowering and inclusive spaces for all, despite the challenges that confront us? Our speakers focus specifically on the unique features involved in engaging communities in a city as diverse as Boston.
Moderated by Bertrand Evans-Taylor, featuring these speakers:
Safety
10:00 am – 11:00 am
Safety is a critical element of both event planning and disaster response, and it encompasses both the formal and grassroots ways of keeping large gatherings of people safe and healthy. Local emergency professionals share advice about what makes a good safety plan, and how you can be taking care of your audience in the most inclusive way, even with limited budget or resources.
Moderated by Nancy Smith and Matthew Ché Kowal, featuring these speakers:
15-minute Break
11:00 am – 11:15 am
Accessibility
11:15 am – 12:15 pm
How might mass gatherings be a case study of what a city or community is (or is not) mustering for people with disabilities? It's about so much more than getting people in the door/stage/bathroom, feeling invited, or fed (in all ways). How can we practice and inform infrastructure, emergency, and disaster preparedness and planning through arts and cultural events?
Moderated by Ellice Patterson and Jessica Wallach, with an introduction by Charles Baldwin. Featuring these speakers:
Sustainability
1:00 pm – 2:00 pm
At the Art of Mass Gatherings, we typically cover techniques for reducing waste, leveraging sustainable power sources, and improving transportation design– and we'll indeed explore these topics onsite at BAMS Fest during Saturday's program!
In this session, we'll broaden the focus to discuss how events can enhance sustainability (economically, socially, environmentally) of the places that host them. Luminary examples and cautionary tales from a diverse panel will span from Build Back Better projects, to green spaces & watersheds, to how ideas like "tactical urbanism" can help test ideas and practice resilience.
15-minute Break
2:00 pm – 2:15 pm
Community Asset Mapping
2:15 – 3:15 pm
A community asset map documents the physical infrastructure, capacities, and knowledge stewarded locally. It can help identify tangible and intangible arts and cultural resources worth protecting and map how local people and organizations can contribute to community resilience, especially as places seek to fortify themselves against natural disaster. In this session we'll hear about a few approaches to community asset mapping, and collectively build a map together.
Moderated by Bertrand Evans-Taylor, featuring these speakers and facilitators:
Reflection
3:15 – 4:00 pm
Our speakers reflect on the themes that arose throughout the day and facilitate our thinking about next steps in the Boston community's journey to expand resilience.
We'll close the day together with a performance by Edward Hegeman.
Networking & Close
4:00 – 4:30 pm
Enjoy some time for informal networking with fellow participants and presenters.
We hope to see you Saturday at our second event in this two-part Art of Mass Gatherings in Boston series, or at least to enjoy the fantastic music, food, and activities at BAMS Fest 2023!
Made possible by our partners